Adventure Camp In Manali
With the beginning of Camping Season, holiday makers must be visiting to several sites so that they can book a Camp which can satisfy all their desires. Before looking for camping, it is very important to look for the place where you can have the best flavors of camping and there is no doubt that Manali is one of the most enchanting places in India to impress you in all aspects.
If we talk about Manali, it has its own charm in its every corner. It is the most significant hill station in Himachal Pradesh. Set up on the banks of Beas River, it reflects the nature at its best. Perched at an altitude of more than 6000 feet encompassed by tall Deodar trees, it is a popular Himalayan resort town in India with amazing places to visit. Top five of them of are the Ridge, Rohtang Pass, Solang Valley, Hidimba Devi Temple and Bhrigu Lake among which Bhrigu Lake is best for camping.
Distance from Delhi to Manali has been recorded as approximately 538 km which consumes almost 12 hours of journey time. Majority of Indian people prefer journey by train. So they can book train ticket to Jogindernagar Railway Station, Chandigarh or Ambala as they are the nearest railheads to Manali. For those who want to reach Manali by air can take flight to Bhuntar Airport which is around 2 hours of driving distance away from your destination. You can also take a bus to reach their.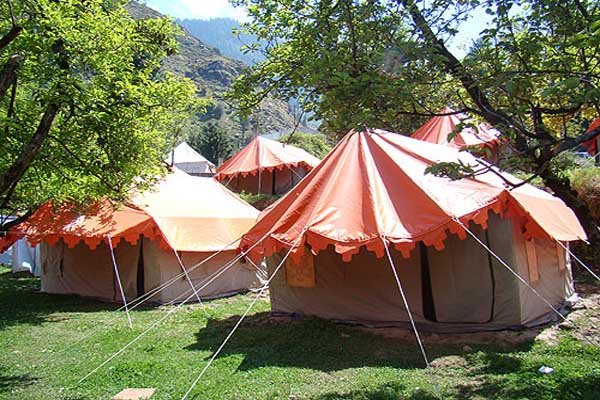 There are various camps in Manali which host several thrilling adventure activities. Among them skiing is the one adventure activity for which Manali is also known for. It lets you travel over snow which is an amazing experience. You are provided with ski boots, helmets, goggles, gloves and poles for this activity. Trekking, rock climbing, rappelling, river crossing, zorbing, paragliding are also conducted by Manali camps.
Camping is also about these recreational activities which puts a great positive impact on your health. With paragliding, you fly in the heavenly sky and get the best way of exploring the whole city of Manali. There are many camping packages which vary in prices, amenities and number of days. The ideal number of days to take the large bite of Manali camping is three days.
Below we have listed few Adventure Camps which provide good amenities with several number of adrenaline boosting activities. Find the best Camping Packages for your Family or organization. Allow this most reputed Honeymoon destination to make you fall in love.
Camps are the only way to realize that life is simple with fun all around us. Get an amazing camping experience.