Alwar Camps, Adventure Camps In Alwar
Alwar in Rajasthan was one of the princely states of India ruled by Rajput rulers under British Raj. Belonging to Medieval Indian history, Alwar is an attractive centre of historical forts, havelis and palaces most of which has been turned into grand resorts and heritage hotels. One of the best examples of this is the Neemrana Fort Palace which has been honored by Agha Khan Award for Architecture. Other heritage hotels in Alwar include Siliserh Lake palace which feels like Taj Mahal of Alwar as it was built by Maharaja Vinay Singh for her beloved wife Rani Sila. It gives a majestic view of Siliserh Lake which is one of the top places to visit in Alwar. It is also a very popular day picnic spot in Alwar. Bala Quila is the tallest figure in the city also known as Alwar fort and is nuzzled in a hill of Aravali range. Alwar City palace is the most visited tourist place in Alwar. It gives you an incredible sight of the perfect mix of Rajput and Islamic art. Alwar City Palace houses a huge museum known as Alwar Museum with massive number of artifacts. Local language in Alwar is Rajasthani. People also speak Hindi and English. Alwar Festival and Matsya Festival are celebrated in a huge way and one can understand the culture of Alwar by attaining this festivals. The best thing to eat in Alwar is its Palangtorh or Milk Cake. The distance from Delhi to Alwar is around 166 km. Luxury train Fairy Queen also operates from Delhi to Alwar giving the most pleasant journey to the passengers. The nearest airport in Alwar is Sanganer Airport, Jaipur.
Alwar is also the getaway to Sariska which is famous for its tiger reserve. Distance between Alwar and Sariska Tiger Reserve is around 41 km. The best flavor of camping in Alwar is tasted in Sariska in the midst of its wildlife sanctuary. Some of the best camps in Alwar are mentioned below with attractive camping packages.
Sariska Tiger Camp




Sariska Tiger Camp serves as one of the top camping in Alwar with its luxury class amenities. It also takes you to experience the real wildlife. It is located in Village Dhawala on Alwar – Jaipur State Highway. Your eyes will keep scanning the natural beauty surrounding this campsite. Jump on the adventure activities offered by Sariska Tiger Camp which include Folk Dance, Village Safari, Camel Riding, Horse Riding, Ethnic Village Experience and Jeep Safari. The Jeep Safari takes you to the land of tigers where you get the opportunity to spot these dangerous predators. It is one of the best camps in Alwar with the worthy camping packages.
Sariska – The Fort View Camp




is one of the best camping in Sariska and is considered to be the best Sariska Camps in Alwar Districts with the Thanagazi Fort in its background overlooked by Shivalik Hills. If you are from Delhi, you can reach here within 3 hours. The wonderful campsite of the Fort View Camp comprises 4 cottages, 14 canvas tents and a restaurant with wide variety of Indian and local cuisine. The activities of this budget camp in Alwar includes picnic at nearby lakes, bonfire, indoor games such as chess, caroms, cards and outdoor activities such as Beach Volleyball, Mud Wrestling. For trekking to nearby forts, you have to start in the early morning. There is also a library with books on wildlife. Overall it is an ideal place for camping in Alwar.
Utsav Camp Sariska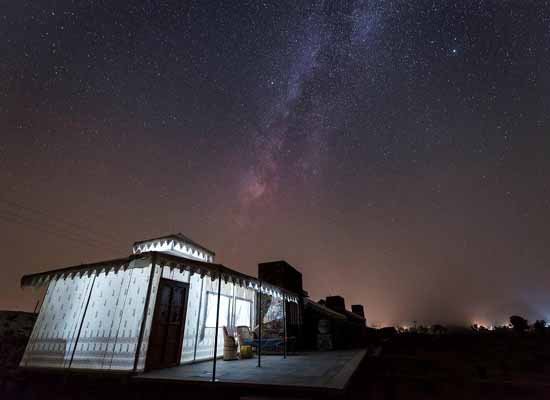 Utsav Camp Sariska is a beautiful adventure camp in Alwar and it offers premium tents. Amenities of this budget camp include restaurant, library, swimming pool and power back up. The activities like trekking, bird watching, wildlife safari and picnic lunches are offered by Utsav Camp. Rajasthani cuisine is worth tasting. Explore Sariska through the cozy accommodation of this camp. You can also head out for to spot some tigers in Sariska Tiger Reserve.
Vanaashrya gives you the complete experience of amazing Alwar Camping. It is a luxury tented accommodation with the modern amenities. It has adventure activities which attracts large group of corporate or associations. Packages for special occasions are also available in Vanaashrya. It is located in the midst of lakes and you can enjoy the small excursions or trekking to nearby places, village safari, camel safari, jungle safari, cycling etc. You can also walk for a short trip to Bhangarh Fort from this camp.
Relish on the best camps in Alwar on weekend or holiday to get the thrill out of your awaited adventures.
Alwar, a region under Delhi NCR is a famous adventure destination of Rajasthan. Alwar is famous for having a picturesque landscape and some marvellous palaces. Alwar also holds a record of being the country's one of the hottest place of Rajasthan, is also a lovely holiday spot for families.
Adventure Activities in Alwar
People, from far and near, visit Alwar in order to enjoy the beautiful historic sites. Sariska Palace, the palace within the Sariska Tiger reserve, is a must visit place for adventure lovers. The geographic diversity of the tiger reserve on the foothill of Aravali welcomes people to thick forest to enjoy the adventure camp. You can book resorts close to the tiger reserve to make your holidays more special.
On the lap of Aravali, the Alwar Bagh Resort is also exhibits a pristine beauty. Siliserh Lake is also a noted adventure spot in Alwar, where people can enjoy various water activities. Kite festival is another event in the city, which attracts people to take part in this beautiful activity.
How to reach
The administrative HQ of Rajasthan is only 150 km south to Jaipur and only 160Km from Delhi. Alwar is connected with Jaipur Airport and IGI Airport (Delhi) by road, while people can also take train to Alwar railway station from other parts of the city.