Adventure camps in Bikaner, Camp in Bikaner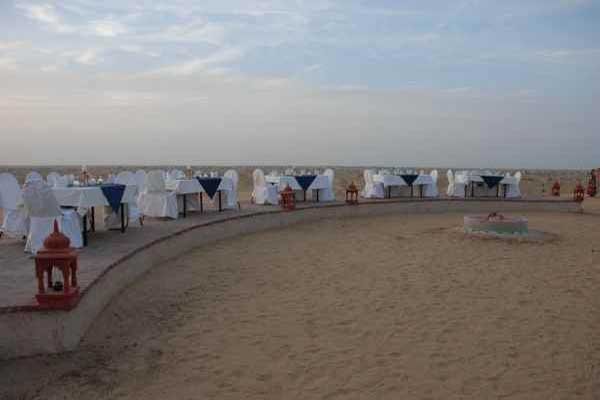 More than 500 years ago, a barren land called Jangladesh was reconstructed and transformed into Bikaner by Rao Bika who was the son of the founder of Jodhpur. Today Bikaner is a famous city in Rajasthan and it has many striking places to visit. Popularly known as Camel Country, Bikaner houses the largest farm for camel research and breeding in its National Research Centre on Camel. The huge attraction of Bikaner is grabbed by Junagarh Fort which is one of the oldest forts. The Royal Family of Bikaner still resides in their palace known as Lalgarh Palace which has been turned into a heritage hotel. It has a fully-fledged museum which is explored by a great number of tourists. Bikaner worships Lord Vishnu and Goddess Laxmi in its oldest temple recognized as Shri Laxminath Temple. It is a beautiful silver colored temple. If you are burning a desire to understand the culture of Bikaner, you can head towards Prachina Museum which is attached in a corner of Junagarh Fort. If you want to explore more about Bikaner, you can also visit Ganga State museum which showcases the history of Bikaner Rulers. Bikaner people use Rajasthani Language to communicate. Hindi and English are also spoken. Every year in January, Bikaner celebrates the grand festival of camel fair against the backdrop of Junagarh Fort. Camels are decorated gracefully. You must taste dry foods in Bikaner such as Bhujia, Namkeen, Spicy Papad, Gatte Ki Sabzi, Rabri, Khasta etc. You can find restaurants serving traditional Bikaner Thali.
The distance between Delhi and Bikaner is about 463 km. Jodhpur airport is the nearest airport to Bikaner.
Half of the land of Bikaner is covered by the thick blanket of Thar deserts. Instead of finding accommodation in hotels, Camping in Bikaner is the best choice to taste the real Bikaner. Adventure in the midst of desert adds glory to your Bikaner camping tour. People from all across the globe come here to make an affair with the wilderness of the rustic sand dunes.
The Dunes Safari and Camp Rajputana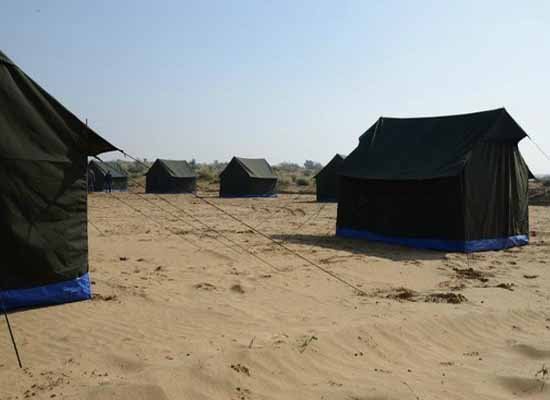 The Dunes Safari and Camp Rajputana set up near Himtasar Village of Bikaner is a well managed camp in Bikaner served by a group of experienced staffs. Arranged in a charming location in the middle of more than 30 feet sand dunes is a sight to behold. You are provided with tented arrangements to relax yourself. Enjoy camel safari and jeep safari of this adventure camp. Have gala dinners along with bonfire in the peaceful atmosphere far away from the hustle and bustle of city life. Grab the fun out of Rajasthani music and dance. The Dunes Safari and Camp Rajputana is a must visit desert camp in Bikaner with a low budget camping packages.
Allow the winds and sands to hug you and simply fall in love with Bikaner and its fascinating desert camping.
How to reach
The city is located 330Km from northwest of Jaipur, the 'pink city' of Rajasthan. To explore the adventure games and activities you can take road route from Alwar, Delhi, Jodhpur, Agra, Baroda, Kanpur, Indore and many other places. The Bikaner railway station also connects the place with other cities of the state.