Adventure Camp In Jaisalmer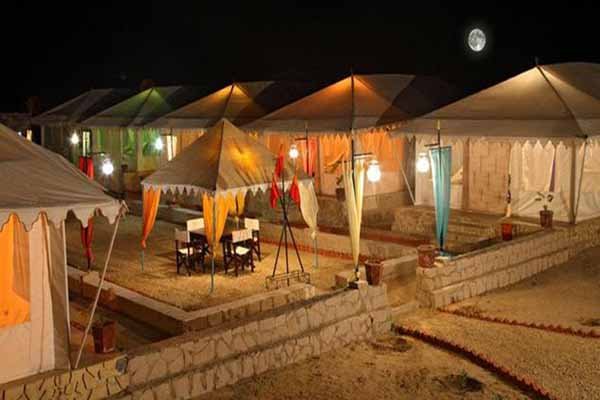 The Hotspot of Desert Adventure Camps, Jaisalmer is the focal point of majestic Thar Desert in Rajasthan. The Golden City of Jaisalmer was established by Rajput Ruler Raja Rawal Jaisal during medieval period.
Once upon a time, it was a rich trading centre. But today it serves as a famous tourist destination in India. It has many attractive places worth paying a visit. Jaisalmer Fort is the top tourist place in Jaisalmer which you must go to see if you are in this Golden City. It is the only fort in India which is still resided by living people and thus known as the 'living fort' too. It is no lesser than an adventure activity to walk inside the Jaisalmer fort during night and it feels like as if you are in a movie. The other point of interest lies in Bada Bagh which is a huge and beautiful garden with the stunning cenotaphs. It is a picture perfect location for photography. Spectacular combination of five havelis, Patwon Ki Haveli is one of the top havelis in Jaisalmer built by a popular merchant of those times. The carving and artwork of this havelis has no words to describe. To explore the history behind the art and culture of this Rajputana city, you can walk for 10 minutes from Jaisalmer fort to reach the Thar Heritage Museum where you can observe the collection of historical artifacts.
Jaisalmer is among the cities of Rajasthan which still reflects the Royalty of Rajput. This Royal city full of forts and palaces made out of yellow sand stones is inhabited by people belonging to religions such as Hindu, Muslim, Sikh and Jains. The popular Jain temple is also located inside Jaisalmer Fort. Desert Festival is one of the top occasions to celebrate the culture of the city and traditional dance forms such as Ghoomar and Kathputli are performed by the local people. Along with Rajasthani, people communicate through Hindi language too. If you happen to be in Jaisalmer, never leave the town without tasting its tasty Dal Bati Churma.
The nearest airport to Jaisalmer is Jodhpur airport at a distance of approximately 275 km. Jaisalmer to Delhi comprises a distance of around 793 km. People travelling from cities other than Delhi can also reach here easily via train or flight.
Camping in Jaisalmer is popular due to Sam Sand Dunes which is the largest dune sight in India. You can witness the tallest dunes here. This massive land of Thar Desert keeps countless camps so that people from all around the globe can come here to grab the incredible joy of desert camps. The adventure activities in Jaisalmer camps include camel safari, desert safari, parasailing, Hot Air Ballooning and Jeep Safari. Some of the luxury camps in Jaisalmer offer Quad Biking. Rajasthani folkdance and music are performed in almost every Jaisalmer camps ranging from Budget to Royal class. Night camps are also chosen by majority of people as it gives an unforgettable experience of camping under night sky with stars and in the midst of magical sand dunes.
We have listed best camping packages in Jaisalmer with all the exciting camping activities. The packages provide you best rates for camps booking.
Desert Adventure Camp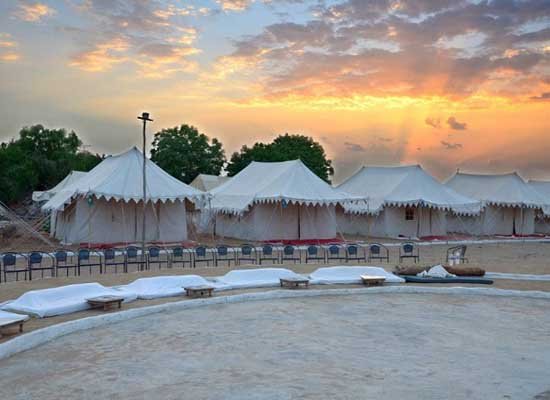 Desert Adventure Camp located in Sam Sand Dunes is one of the best camps in Jaisalmer with luxury Swiss and Deluxe Tents. It also takes you for sightseeing of the top places of the city. You can also take a ride on camel. Soak into the culture represented by folk. You can get all this amenities within a reasonable camping price offered by Desert Adventure Camp in Jaisalmer.
Rajasthan is one of the best destinations to visit at least once in a lifetime. The Desert of Thar is definitely one of the key attractions in the region of Jaisalmer. Presently there are various options for staying in the middle of desert in dessert camp which is generally providing tented accommodations.
Camping in the desert of Jaiselmer has not been so far from you. If you want to visit desert and forget all the tension of your day to day life, you are most welcome to Thar Desert of Rajasthan. Jaiselmer is one of the finest weekend gateways from Delhi and Jaipur and from other city you have to plan at least 3 Nights holiday to enjoy the desert camping in luxurious style.
There are good numbers of desert camps sited near Sam Sand Dunes and most of them offer a sunset camel ride along with a unique experience of typical folk music and dance. Staying in Maharaja style in deluxe to luxury tents take you to the ancient history of Rajasthan, You will be really experiencing a stay at night in desert surrounded by sand. The twinkling stars in clean sky will definitely tell you that thanks for coming and you would be replying that this is one of the best moment of my life.
Many of desert camps close to Jaiselmer provide good services to their guests. It is up to you that have you done your research before choosing them or not. Therefore this is highly recommended that must take expert advice before plan your trip for desert camping in Jaiselmer or other destinations of Rajasthan.
Neat and clean luxury tents to stay, delicious local food, traditional drinks, folk music and dance for entertainment and a unique silence of desert really provide you an unforgettable experience of desert camping.
Jaisalmer is located 575Km away on the western side of Jaipur. The city with a nick name, the Golden city, is crowned with forts and pristine temples, which has made it the World Heritage Site.
Adventure activities in Jaisalmer
In the core of Thar Desert, the Jaisalmer stands as a beautiful city with immense historic importance. The place exhibits a calm and charming weather during the winter days, while the summers become really intolerable in this sandy city. Beside Jaisalmer Fort and Gadsisar Lake, the city also has beautiful sand dunes and desert national parks. Adventure lovers come for desert safari, camel ride, desert night safari and other adventure activities. Adventure camp or safari camp in the desert with Rajasthan's folk music, dance, bonfire, attractions and delectable plates will make your trip a thrilling one.
How to reach
All modes of transports serve the communication of Jaisalmer with other major destinations of India.
There is a military airport in Jaisalmer, which is not used by travellers. So, people flying to Jaisalmer arrive through Jodhpur Airport (300 Km).
Jaisalmer has distinct rail routes to Jodhpur, Bikaner, Jaipur, Alwar, Delhi, Ajmer and other parts of India. 'Palace on Wheels', the lavish tourist train, also halts at this city.
The desert territory can be reached from other parts of the state by road, but the journey is too exhausting and tiring. The NH 15 lies on the city and state buses as well as private buses ply on it.