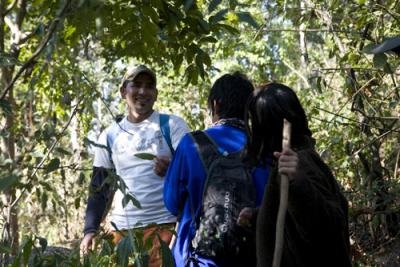 Hiking is a leisurely walk on the paths that are mostly frequented by travelers. As compared to trekking, it is easy and lasts for short period of time. It is a great outdoor activity which makes you familiar with the beautiful places in a delightful manner. There is no need to hustle during hiking. It is a peaceful and cheerful activity. Hiking results in great number of health benefits. When you are on some hiking tours with your friends in a natural destination, you are free from all the irritating noise of metropolis which is good for your brain. You also revitalize yourself in the purest atmoshphere.
Almost all camps near Delhi have included hiking activity. Some of the top hiking destinations near Delhi are Rishikesh, Manali, Kasol, Dharamshala, Mcleodganj and many more. Diverse collections of villages are settled in Northern India and to know what village life is like, hiking has become an ideal activity. Go for weekend hiking near Delhi as there are various natural places to travel. Photographers are engaging themselves with hiking these days in order to capture the masterpieces of nature. It is said that hike more and worry less.
1 - Before going for any hiking trail you have to ready with your all essential equipments such as back pack, Goggle's, shoes, first Aid kit, a pair of trek suites, dry fruits, chocolates, camera, extra pair of socks, torch etc. Charge your battery for using camera and cell phone. Collect a route map if you are not familiar with route and place before starting the trail.
2 - Do not take photo without asking the people. Do not scatter garbage in open area. Respect the nature and local communities in all aspect during hiking trails.