Shivpuri Camps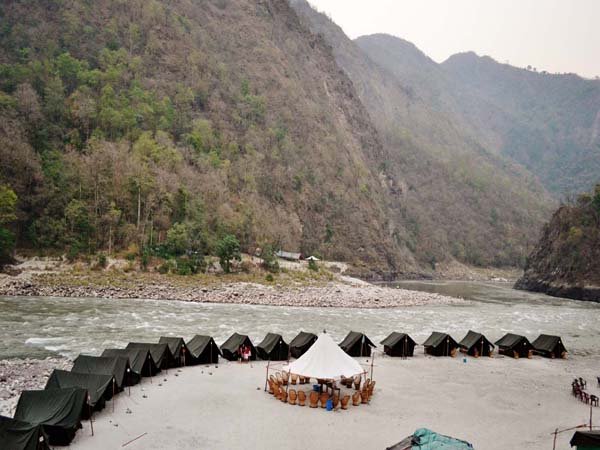 Looking for camping with budget tents in India? SHIVPURI is the perfect destination for camping with very low budgeted camps. It is a less known place among majority of people. But adventure seekers or people who frequently give their happiness a major priority by exploring as many places as they can are very well known about this place located in close proximity to Rishikesh. This camping hotspot which reflects Lord Shiva in its name is genuinely a sacred place scribbled with holy temples. If you travel to Rishikesh, exploring Shivpuri adds double fun to your trip.
The best possible way to land upon this village is by driving on national highway 58. The time take to travel from Rishikesh to Shivpuri is only half an hour. Settled in the foothills of Shivalik hills at a height of somewhere 1200 feet and surrounded by lush olive and Sal trees with seeds producing useful oils is a beautiful area to be a part of. Due to the flow of powerful tributaries of river Ganga, rafting is the major attraction of Shivpuri.
Camps in Shivpuri always wave at the enthusiastic travelers. But if you are going for rafting, monsoon should be avoided as no rafting takes place from the month of July to September in Shivpuri. Wildlife lovers can spot birds like wood ducks and partridges.
Here is the list of camps in Shivpuri varying from budget to luxury.
CAMP RIVERSIDE
CAMP RIVERSIDE is one of the best budget camps in Shivpuri where you live like a nomad with comfort. It has cozy tents comprising bedding, carpeted floors, wooden chairs, common washrooms and a lantern. Enjoy the delicious meals and lose yourself in the adventure activities like jungle trekking, carom, badminton, cricket and volleyball. It provides the best plans and packages for camping. Go with Camp Riverside in order to relax in nature's arm.
FEEL FACTOR
FEEL FACTOR is another budget camp in Shivpuri. This is a jungle camp which lies on Rishikesh-Devprayag road. It can also be a great weekend getaway from Delhi. It is popular for family adventure travel, corporate retreats, school outdoor trips and summer camps. Through camping, Feel Factors makes you familiar with jungle or forest. Rafting is done under the guidelines of its remarkable team. Kayaking, rock climbing, rappelling are other adventure activities.